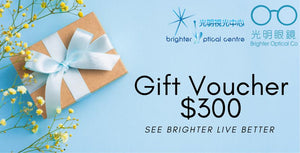 一款送給您的朋友和摯愛的家人光明視力的禮物!

持卡人可以在我們的網店或眼鏡店其用於購買眼鏡、隱形眼鏡、眼科檢查或眼鏡配件等任何物品。
A gift of vision for your friends and beloved family! Cardholder can use it for anything at our online store or optical stores from eye glasses, contact lens, eye examinations or eye wear accessories. 
條款及細則
1. 此禮券不可兌換現金;
This gift voucher is non-exchangeable for cash;
2. 結帳前請向店員出示禮劵;
Present this gift voucher to staff before transaction;
3. 此禮券只可使用一次,每次限用一張;
Only one gift voucher can be use per transaction;
4. 禮劵須於發出日計3個月內使用;
Gift vouchers must be used within 3 months from the date of issue;
5. 此禮券的面值不可套換或找續現金;
No cash back upon redemption or at any other time;
6. 禮劵影印本無效;
Photocopies of this gift voucher are invalid;
7. 此禮券適用於任何付款方式;
This gift voucher is applicable to all kinds of payments;
8. 禮劵如有損壞、遺失或塗鴉,則予佢廢,不獲補發;
This gift voucher is invalid and non-replaceable if lost or found defaced or damaged;
9. 如有爭議,光明眼鏡及光明視光中心保留最終決定權。
Brighter Optical Co. & Brighter Optical Center reserves the right of final decision in
case of any dispute arising from the gift voucher.
Delivery:
We will ship out the product within 72 hours after the order has been placed successfully on website.
Shipping Fee: (Currently only available in Hong Kong)
| | |
| --- | --- |
| First 1Kg | HKD 30 |
| > 1kg | HKD 12 for every 0.5kg |
No return or exchange are accepted for opened product, therefore, customers should always double check product details (e.g. brand, lens power) are correct upon receipt of delivery.
Return Policy:
We have a 7 days Product Exchange Policy. Please contact us within 7 days upon receipt of package delivery via email or Whatsapp. We will send you a Product Exchange Confirmation afterwards.
You may either ship back the product to our office or make exchange at our retail store within 3 days after receiving our Product Exchange Confirmation. We only accept products that are unopened, without damage on their packaging and in a re-sellable condition. Customers are responsible for all shipping cost related to return and exchange products. 
We do not accept refund.
Brighter Optical Gift Voucher
---